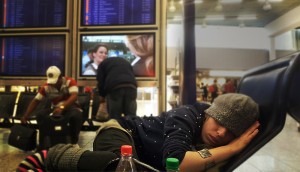 Why can't it be like that? You know, like a double barreled vaporizer – a little e liquid in one and a little pot in the other – a dial in between, you know, to set the ratio that you'd like. Maybe with some presets that you use often  – linked with your phone's GPS so you hit the right mix in the right place and don't get  fucked up at work.
Well, maybe that's an idea for the future – why can't it be now? It should be now. I can think of thousands of people who'd use one – it would be brushed titanium, the etched double devil logo down each side with a touchLED panel on top. Goddamit the flow of time, that partial existence given to things yesterday and tomorrow. It makes the vision of the fututre just as risky as our understanding of the past. I wonder how many oldies wanted to drag their telephones out with them, cutting the cables, squish them small and make the dial a keypad that pops up with a smart but simple finger-brush…
And so, by default, places fade into a semi-existence – given that you pass through them chronologically. Where you were before is just as historical as the time you were there. I have to say that all this air travel sure does speed up that effect. London is now pretty hazy – even though it's only 48 hours away for us now we're back in Costa Rica.  And before that the snowy sides of America's Mount Shasta fogged up after only a week of  being in London. It would never be that abrupt to an overlander moving slowly across the land mass.
Of course, the above three paragraphs would be that much more of a problem if it wasn't for the old www. The internet serves to give a little color to other places and other times. I could never forget England or California when we are chatting or otherwise stalking each other on facebook, could I? I might find myself clicking less on those links you Londoners are posting about the utter destruction being brought about on society by the Conservative Party (that seems to have almost surpassed the hatred of  Thatcher's decade within three years – now that's air travel and smartphones for you). But I sure am aware  of the nightmare Tory Britain and the thoughts of my social media friends living there – and will remain so no matter how many more places we travel through.
Time, the past and the future, is also made more vivid by the internet. So you could be reading this, sitting in a nicely carpeted room in London or that coffee shop three blocks west of Main and 7th. Equally you could be reading this next year or even a decade into the future. Maybe it's 2020 and your google glasses just found this web page as you jet-packed past the tropical mountain town where we're currently parked up. Hey, hi future, how's it all turned out? Did those double barreled vaporizers ever make it?