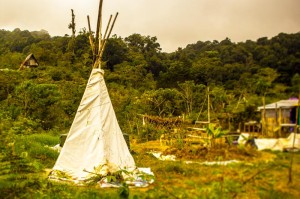 Travel volunteering overlander, earthship building community member, tropical enviro life affirming unconsumerist or just looking for a cool, awesome place to hang out for a while? Sanctuary Farm is an ego-free, eco-full piece of jungle perched on top of a hill on the edge of a rain forest in central Costa Rica which welcomes volunteers to come and share the creative energy and join together in this immense project.
With the new season starting a few months ago, the Farm has already seen many backpackers who have found the place by word of mouth or by browsing the community volunteering websites. This is a call to vehicular overlanders to come, stay and share your substantial drive, experience and skills. I'm told that agricultural and welding knowledge would be well appreciated at this moment in time.
This will be a productive park-up for a week or two for any motorized (or otherwise) overlanders passing through. The track up, climbing to 5,000 ft, is pretty steep and can get slicked out in rainy season – contact the Sanctuary people to see if you can get a vehicle all the way up there. The next option is to leave your rig at the bottom of the hill (45 min walk up, 15 min down) where someone in the village there will keep a watchful eye over it for a few dollars. Alternatively you can park at the nearby town of Orosi where the Farm's owners run the Hotel Revantazon, and then get a lift up or even… ah… walk (2-3 hours).
Sanctuary Farm is pretty much a shared experience. The main project is the construction of earthships – dwellings made from recycled materials, car tires, mud and wood, not forgetting vision and hard work. Integral to this is the vegetable garden, water catchment systems and the upkeep of the farm's existing collection of chill-out areas, kitchen huts, tipis and yurts. Sanctuary Farm is young and now is a great time to help lay the foundations of something great – a self-sustaining community where you can barter your love for life. And don't worry, it's not some kind of work camp – there'll be ample time to see the waterfalls, the hot springs, the nearby national parks or the incredible views of the lush, green valleys.
You think this post sounds like an advert? Hell, yes: Sanctuary Farm needs you. Read all about them here and here – get them on facebook here  – email contacts are here.
Dawn at Sanctuary Farm: http://youtu.be/Yd_0l5a0TBY