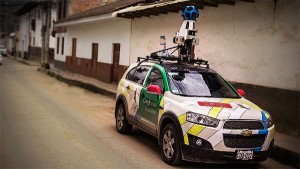 There were two rival Streetview camera systems spotted in Chachapoyas recently. One was Google's latest daring raid into the Andes – the other was us, Earthcircuit Streetview. The former was parked up on a back street, the sleek, modern car ticking down in the shade, its camera tree in position, the operator messing around with a rack of computers. The latter slowly trundled past – a converted bus with Dunia sitting up occasionally and taking a shot with an old Canon.
We were just reading about some inhabitants of a Thai village attacking a Google Streetview camera-car and wondered how things were shaping up for them up here in the highlands of Peru, along the spine of South America. We could commiserate with any difficulties since we'd had a couple of our own: A couple of times recently we've caught, in the course of capturing the road, a pedestrian by the side gesticulating with dismay at the camera lens. In the short clip below – a section of our Pan-Am Streetview – we omitted those pictures.
Elsewhere in Chachapoyas, we observed a couple of events held during a Chachapoyas Regional Culture Week – otherwise known as Raymillacta which possibly means "town party" in the Quechua language.
Another Streetview: here