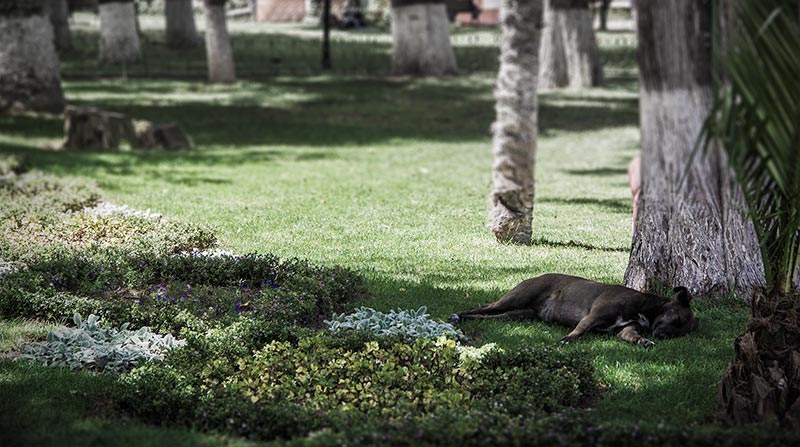 It's not a long way between Potosi and Sucre – a few hours' drive and a drop of 1000m from the barren hills around one of the world's highest cities down through the valleys to the eternal-spring climate and greener region of Sucre, Bolivia's traditional capital and beautiful, most perfect city.
The ancient connection between these two towns is a strong one: Poor Potosi, site of a silver mine where millions died and where, even today, thousands continue to work in terrible conditions and Super Sucre, the place built on Potosi's money by the mine-owners and still now the posher side of Bolivia, a city both well-funded and steeped in pre and post-colonial history. So far on our travels through Bolivia, Sucre stands out as a beautifully preserved Andalusian downtown surrounded and supported by industrious working class neighborhoods. The buses run cleaner than in La Paz and there seem to be far less children dancing for money in the street – we arrived on a Sunday evening, drove through clean and orderly suburbs and stopped by the main square, parking up with lots of lovingly restored antique cars, their owners enjoying their stroll among the palm trees and fountains. But over the next couple of weeks, as we toiled with the Bolivian internet and did some work online, one incredible thing marked this city out as truly unique – not just for Bolivia, or for South America, but pretty much for the whole world. And I'm still racking my brains trying to understand what it means for the city, the history and the people: From the first day to our last, we enjoyed the company of a few of the dozens of friendly stray dogs of Sucre as we joined them on the streets.
Dogs the world-over
In the West, dogs tend to be attached to their owners or locked away behind fences and gates. In the South, there are, of course, the same kind of pet dogs but there are also loads of them wandering the streets or loose in and around the area where they live. Often they have owners but the relationship of responsibility is subtlety different than is it is for your standard pet – these dogs aren't really strays, of course. They are not lost – they are free-roamers.
And they are never particularly friendly. I mean, they might tolerate a pat on the head or appreciate a little attention but they generally don't seek any of that from a stranger especially – you see them sniffing about pretty oblivious to your calls or heading down the road straight past you, purposefully on a habitual route. In places, like at the beach or at some tourist spot, there might be a pack of them used to the kindness of visitors, well-versed in the art of blagging food – and the dogs we met in Sucre come close to this category. Close but entirely different; they weren't begging for food, they just seemed to hang around the parks, squares and green areas and, well, they just seemed to want to hang out with the people there.
Where you can find friendly dogs in Sucre
A few blocks down from the main square, the Plaza 25 de Mayo, is the Parque Bolivar – a broad and long, well-treed park with fountains that were lit up at night at the bottom and food stalls at the top. There's an enormous children's playground, a public swimming pool and tennis courts down one side and, in the middle, a kind of miniature Eiffel Tower thing that you can climb up. Around the perimeter, joggers join forces with kids on hired mini-quad bikes and, basically, on any day of the week until 11pm or so the place is a good example of an urban recreational area complete with the odd picnic and plenty of romantic teenagers. And loads of dogs who wander around being friendly. They might occasionally join in on the jogging for a few laps. They might interact with their leashed brethren. Mostly they go from park bench to park bench just sitting and chilling with whoever's there. They never went near the Eiffel Tower thing. If it's a hot day, they stretch out under a bush – in the evenings, to be honest, they just look like they're having a right laugh. And after midnight, there'll be a pack of them all trying to get some sleep in a quiet corner somewhere.
Maybe it's hard to imagine. These aren't your typical mangy mutts – the long-haired, smaller breeds looked a bit of a dreadlocked mess but, mostly, they were big, good-looking, healthy dogs. With smiles on their faces, ready to look you in the eye and interact.
There's one parallel that might illuminate and that's the infamous Parque Kennedy in Miraflores, Lima, Peru where you'll find dozens of cats hanging out and dozens of visitors come to watch them. The situation is similar, especially when you see them curled up on the flowerbed as if they were part of the horticultural design. Except that these are, of course, dogs and not cats and, for that reason, just that bit more cuddlier.
Sucre and Sucre's Mate
Our second day in Sucre, we were still getting our bearings and looking around for a good place to park up and live. This process, in a city, generally leads us towards the green spaces. We stopped by one, not far from the central market, and got out to check the area on foot. A beautiful husky-type thing started to follow us, responding to our greetings and letting himself be stroked. He walked with us up the road and then ran back down once he'd realized we had turned around. And when we got back to the truck and opened the door, he jumped straight in and wouldn't leave until we physically pushed him out.
By the time we had got into a routine of mostly parking by the big Parque Bolivar or up by the main square to get a better internet connection, we had won ourselves a couple of regular canine friends – who we unimaginatively christened Sucre and Sucre's Mate. I first met them up at the square on a couple of consecutive evenings – an hour or so playing with them and then they'd be off chasing motorbikes. Then once when we drove back down to the park, they ran after us, opting to sleep the night curled up together just outside our door. After that, they were often around, following us about, waiting outside cafes and stores for us and winning a few nights sleep-over actually inside our truck  – Sucre especially liked the bit of carpet at the front.
What does this say about Sucre the city?
I don't know if anyone reading this finds it all so strange; but I do. You might find this kind of canine behavior at the beach but in a city? I never have before. For sure, some people we spoke to said that the dogs had owners but that they were just left to roam free – and none of them looked underfed or seemed fearful or aggressive as many street dogs do. Judging by Sucre and Sucre's Mate, who never begged us for food or seemed particularly interested in trash, we think they must have had a regular place where they could go get fed – a place which you might call their home but a place where they only ever spent a few hours a day. Of course, we were always asking ourselves whether they endured any suffering, suspecting a dark side to this story – but you only have to look at them; they looked happy and dogs don't fake that.
And I'm still wondering why in Sucre, the "nicest" city in Bolivia, this situation has come to be… A perfect balance of factors, probably: A constant, comfortable climate; a people chilled out enough to tolerate and even appreciate them; a municipal authority not quite resourceful enough or minded to get rid of them; maybe a tradition stemming from some long-forgotten event or practice. Whatever: For two dog-lovers living on the road they certainly made Sucre a special city.