Being a vegetarian in South American countries can be a testing experience and, in general, Bolivia is no exception to that rule. In their capital city, Nuestra Señora de la Paz, however, you will find plenty of healthy, good food that has been cooked deliberately without meat or fish – pretty much an oasis of vegetarian food that will appeal to anyone who could do with a rest from the meat-eating norms. And, while proper vegetarian food is often over-priced tourist fodder, here you will find places where the locals eat. Here is our list of vegetarian restaurants in La Paz.
The Best – Natur Center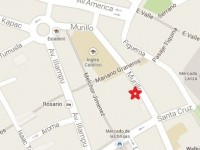 Our favourite place was on Calle Murillo just down from Mariano Graneros, that narrow market street, lined with blue wooden stalls, that climbs steeply up the hill. Here there are set meals with two options for the main dish. The menu changes every day and costs 16 Bs ($2.20) but was always delicious. This place sells a few traditional health products too, soya and bread and has yogurt based drinks and desserts for around 5 Bs. Get there in good time (12pm – 1.30pm) or you might miss out – it's very popular with the locals and you share tables.
Centro Vegetariano Reneuvo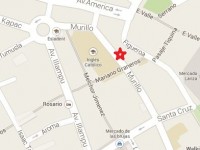 On the other side of the same road, further up the street, is a vegetarian store inside a small arcade of stalls. Climb the stairs and there's another restaurant with the same kind of deal although the food was a little more challenging the few times we went there. Again, get there in good time because it's very popular – we saw the same crowd here on a Saturday when the restaurant above was closed. The set meals were 15 Bs.
Tomatecafe Cafeteria Vegetariana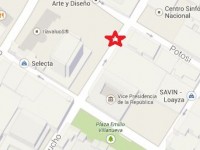 On Calle Ayacucho going up on the left below Calle Potosi, this place is a foreign-owned, slightly posher cafetería catering for tourists and business folk. Again, get here early because the salad bar was running close to empty whenever we arrived. For 20 Bs, the set menu is always inventive and delicious but the portions are a bit small considering lunch is the main meal of the day in Bolivia. They also do veggieburgers, coffee, cakes and serve a few spirits. They have Wi-Fi but it's typically slow. Watch your bags round here – the business area has rich pickings for thieves…
Tierra Sana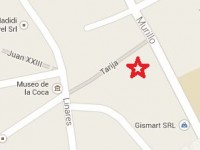 Friendly staff and free Wi-Fi; delicious food that is obviously lovingly prepared and presented. There's a good menu here but it's yet another step up in price – 30 Bs for the set course with portions on the smaller-size. This place is on the pedestrianized Calle Tarija round the corner from Oliver's Pub and down the hill from the Museo de Coca.
Some health food stores, snacks and other places we found:
On Zoilo Flores close to Amirante Grau and a couple of blocks from Plaza de San Pedro, there are a couple of health food stores for your TVP and soya chunks and stuff. There is a also a fairtrade store at Avenida Costanera 36.
Here you might also find a street stall selling papas rellenas – mashed potato around meat, cheese or egg and deep fried. This is a delicious snack found all over Bolivia, served with a tangy sauce and usually costing 3-5 Bs. There's a busy stall selling these on Calle Oruro just up from the main drag.  Other snacks to watch out for are humintas (corn and cheese steamed in leaves) and sonso (barbequed yucca and cheese).
If you're in the south of town, on Avenida 20 de Octobre between Calles Guachalla and Aspiazu, there is an interesting cafe and community space focused on the feminist struggle and gender politics. I can't remember the name but it has an unmissable mural painted big on the outside wall. There's Wi-Fi here and occasional vegetarian grub served up cheap.
One other thing, if you find yourself in a smallish place that's not too busy, is to just ask the cook to swap the meat for cheese, an egg or extra vegetables. Often they'll be making it from scratch anyway – just don't expect too much of a discount in price…
Some other vegetarian restaurants in La Paz that we didn't go to:
Armonia at Avenida Ecuador 2286 – by all accounts, vegan and organic with set meals around 30 Bs.
Namas Te at Zoila Flores 1334 – well-established, maybe a little posh – or, at least, a treat.
La Mia Pizza at Calle Illampu 809 – ask for the meat-free and vegan options.
Hare Krishna Temple – we could never find this place but there is one around…