It ought to be considered a valid afternoon's outing, preferably on a Sunday, you'd assume, in that lazy, untaxing way things should be on a Sunday in Barrano. And it is. At the nice end of town, Mario Testino MATE's new gallery is housed in a beautifully restored building typical of the area. And the pictures are nice, don't get me wrong – he may be a fashion photographer but he's still good.
We went to see Testino's Alta Moda exhibition. A collection of photos that he took up in the hills somewhere of Peruvians wearing traditional clothing. Taken over the last few years the models are the descendants of a fellow successful photographer and the setting is a studio with backdrops recalling. They are good, colorful and kinda desaturated all at the same time – a style that I like – but there's not so many of them and you're soon through the back and entering an annex housing part 2 of this show.
Here's where it get's funny. On display are several Galtier, Gucci, I forgot which, outfits from, like, 2007 or something. And some writing on the wall declaring the connection between the full skirts and hats on display and the traditional clothes worn by indigenous Peruvians. Great, my companions, said, Mario's saying high fashion is inspired by Andean fashion. Kind of a cliche but… hang on.
The story is that Mario Testino arrived back in his homeland a couple of years ago after many successful years photographing royalty of all kinds – the Hollywood kind, the cat-walk kind, even the lizard kind. In a flurry of press releases and social media posts, he announced his attention to turn his eyes to the state of Peruvian culture. With help from the government and sponsorship from a random furniture company he has set up this new gallery and called it MATE; the MArio TEstino center of Peruvian culture and its promotion. Well, we saw just a bunch of his own photos and some frocks from his fashion friends. And got charged $6 (as a foreigner) for the privilege.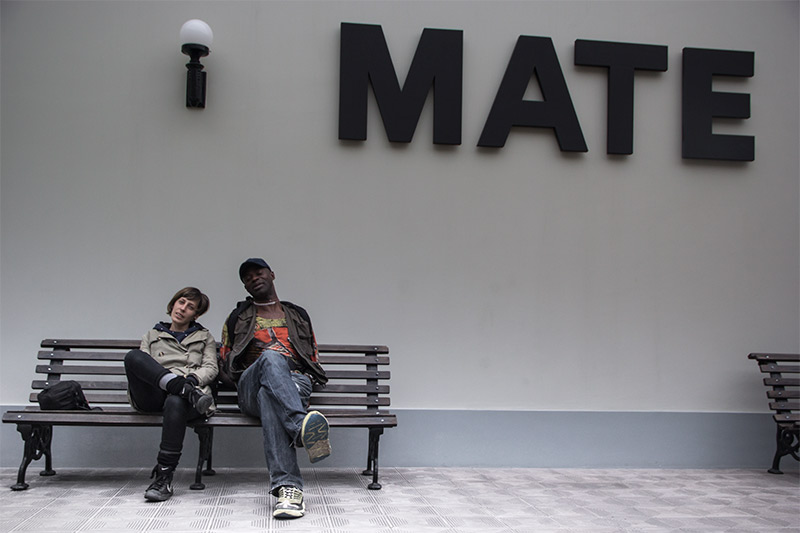 Privilege. Now there's a word I feel could get better employed in this story. We looked again at the connection between the two parts of this exhibition, the writing on the wall. What Testino actually seemed to be saying was that, while on his high Andean photo-mission, he was struck by the similarity to the fashion designs from his friend a few years previously. Not an inspiration flowing from the old cultures to the new but a kind of 'Oh, look, those dresses look just like what Jean-Paul did in Paris'. And here, in this rarefied setting of an elitist celebration held in a colonial-era (and now colonial once again?) asset now lost to anyone who can't afford the couple of hours wages it costs to get in, this almost whimsical after-thought of Testino is wrought into three dimensions for our Sunday enjoyment. It seemed funny and, well, almost sad at the same time but, if I am correct about this interpretation of the exhibition, it wasn't exactly the cliche we expected it to be. Possibly something even worse.
Looking at the literature then, I learnt that the MATE Gallery is open to school kids and university states. They can come down too and experience the mind of Mario for a couple of dollars each – an invitation that is about as philanthropic as this government supported institution seems to have got in its first year of operation. Early days yet, people.