UPDATE: Our motor home is now booked up until August. Thanks for all your interest!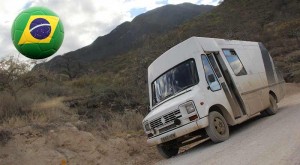 So you've bought some match tickets for the biggest show on earth and booked a flight to get there. The only thing you've got to work out now is where you're going to stay and how you're going to get around. Brazil isn't one of the cheapest places in the world for any visitor – one question remains, then – a half-idea, a passing thought: How do I rent out a camper van in Brazil?
Well, here is how you can hire our motor home for the World Cup.
We're not sure how it's all going to work out – but from today we're offering to hire out our camper van for the World Cup in Brazil. The camper currently sleeps three (but this can be increased), has a shower, kitchen, desk and solar-electrical system with enough power to run laptops, charge cameras and phones, etc  – and will come with an experienced chauffeur and a Portuguese/English co-pilot.
At the moment we are located on the Bolivia/Brazil border and, of course, we are able to drive to any of the cities that are hosting World Cup games. The internal configuration and specifications of the vehicle can be customized. Therefore, at this stage, we're inviting everyone to register their interest and submit their ideas, requirements and itinerary.
Possible scenarios:
Luxury: Combine the camper van experience with hotel stays, using campsites and restaurants and short internal flights where required.
Overland: Live on board and experience the adventure of overland travel, exploring the complete Brazil as well as the opportunity to visit neighboring countries such as Uruguay and Argentina.
Media Support: We can become a mobile support vehicle for your media activities. You can live and work from the vehicle and you'll have a Portuguese interpreter and a driver.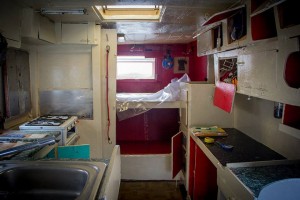 Four years ago, Earthcircuit left Europe, crossing Russia, the Far East and shipping to Canada. Since then we have traveled south through the Americas and after the World Cup we will ship everything back to Europe. The vehicle is a 5.5 ton Renault Dodge 50, a tough, reliable machine that makes the perfect overlanding RV – big enough to live in comfortably, yet compact enough to get anywhere. Your crew have years of experience in living on the road and dealing with all kinds of situations and environments. We can cook, clean, fix and guard – we can organize, arrange, translate and help out with any photography, video or copy writing. Get in contact using the form below to register your interest in joining us for our last adventure in Brazil and hire our motor home for the World Cup!
[customcontact form=1]