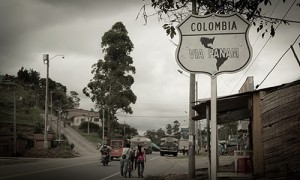 Driving through Colombia is a pleasure. From the north, the Caribbean coast, the road runs straight south through the greenest, lush, countryside imaginable. To the left, lies a range of mountains that mark the border with Venezuela –  and to the right is another rising cord of hills – both ranges work together to gently lift you towards Medellin and into the Andes proper. Say goodbye to the tropical heat and humidity and hello to an almost perfect climate; so welcome this close to the equator, a few thousand metres above sea level. The next 750 km took us through the Zona Cafetera, threading mountain gorges, winding a thousand hairpin bends and high into cloud forest, until Ecuador.
Colombia seems to be one of the more expensive countries we've come to on the way south. Or maybe it just seems that way because they count their pesos in the thousands against the dollar, euro or pound.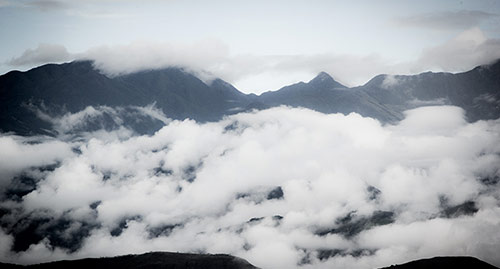 The first time we filled up, it was 8200 COP a gallon – around $4.5. That dropped to 6300 COP as we approached the Venezuelan border. For a few hundred kilometres, the price climbed along with the terrain until 7500 COP a gallon around Medellin and even to 8500 COP in coffee country; then it drops again, suddenly to 6000 COP as you pass into the last state before the Ecuadorean border. All in all, let's say an average price of 7000 COP a gallon or about $1 a litre.
The road tolls seem to vary in sync with the price of fuel: for a four-wheeler they were 7000 COP in the north, dropping to 6000 before rising to 9000 in coffee country and then dropping again to 4000 as you near the southern border. For us, with twin sets of wheels on the back axle, we had to pay Category 2 which was only 20% more – not double the price of a car as it was in Mexico. The tolls come every 50km or so. A little more often in, yes you get the picture now, coffee country where we hit five tolls in 200km – each charging us up to 13 000 COP.
And that's really why Colombia seems expensive. You might hardly ever eat out (typical price is $5 a meal) because, like us, you've still got some stores of food on board from cheaper times. You might be full of practically free Venezuelan fuel and driving so hard that you can just about manage to share the one bottle of beer ($1.50) a night before falling asleep – and for that reason, too, you haven't bothered to trouble a hostel or campsite with your business. But you will still get stung by the tolls which almost double the cost of traveling even if you are buying local diesel and eating out. From the Caribbean to Ecuador we estimate that we paid 250 000 COP or about $140 in road tolls. And there doesn't seem to be any way to avoid them – unlike Mexico where you can at least use minor highways or sneak on and off the toll roads before and after the booths where you have to pay. In Colombia you have no choice – no one has a choice – and if one of your crew is bitterly moaning about this highway robbery you just have to think, well, that's just the way it is, at least we can kinda afford it and, if they're still complaining, thank the gods we don't have to live here.
In fact, apart from recreational drugs, the only other thing that seemed to us really cheap in comparison with neighboring countries were the mobile data packages that give you internet on your smartphone. We paid 5000 COP for a SIM card and 15 000 for a 1GB, 10 day package. However after 10 days, we still seemed to be connected even though we hadn't recharged the deal – by the time we left Colombia, after two and half weeks, it was still going strong. This was on the Claro network which isn't the cheapest advertised but, we were told, has the best coverage outside of the urban zones. And, of all the drugs available, the most comforting we found was the coffee – available pretty much everywhere in small cups served by mobile vendors carrying thermos flasks.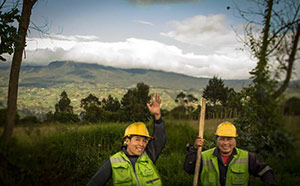 The word is Colombia is a friendly country populated by very friendly people. Put five Colombians in a room together and there'll be a party, so the saying goes. It is also known, of course, as the center of the cocaine trade and home to a guerrilla/civil war – thus placed high on the list of most dangerous countries in the world. Well, the cocaine is still there, the violence reportedly less so – and their friendliness was demonstrated pretty much everywhere we chose to stop.
After a couple of days playing with the fuel tankers on the lowland highway, we hit the quieter roads west towards Medellin. Immediately it almost seemed like another country.  Now, you might hear repeatedly about the cultural difference between the low and highlanders of Latin America – here we saw it in the neat and tidy villages and towns through which our road twisted and turned. The cool quietness after the hot and humid roar of the jungle below. And the greatest change were the road signs warning drivers about cyclists. In the lowlands they have a remarkably detailed silhouette of a full-suspension mountain bike set on a yellow diamond. In the hills they use an image of a racing bike – and sure enough, one morning (it must have been the weekend), we passed hundreds of them – entire phalanxes of tour pelotons – off their seats, stamping pedals, hung low over the drop-bars and literally eating the serious hillage. I have long known that cycling is popular in Colombia and that they send a large number of contenders to world cycling competitions but I never managed to figure out if there was a reason. Really, it was like being in the Alps, dodging bicycles on their weekend rides.
The first night we stopped at Cisneros at a gas station/car wash at the western end of town. According to Miguel, the car wash owner, plenty of overlanders have come to rest on the green grass and taken advantage of his high-powered water hoses. A quick shower, then, before dark and our first properly cool night after what seemed like an eternity in the tropics.
For the next couple of days in Medellin, we gave ourselves a mission to find someone to do some graffiti on our truck – we succeeded in that and met a load of genuine, friendly people into the bargain. Parked up in the safer, southern suburbs of that city, randomly outside a large town house which belonged to one family (each generation occupied a different floor), we will owe a debt of brief but beautiful memories to the artist and his partner who showed us around and to that random family who offered to do our laundry…
And if, before Medellin, the landscape and traffic had begun to resemble the Alps, then the euro-feel continues further south into Zona Cafetera. Switzerland turns into something like northern Lombardia as the terrain levels out – posh houses by the side of brand new, four-lane highways with toll prices to match. We broke the journey by stopping at the Valle de Corcoran. This is a beautiful valley, home to a type of palm – the world's tallest – which gives the hills a very strange look. You can drive right up to the entrance of the National Park, park up and wander off into the forest. We spent two nights there, taking a break from the journey, acclimatizing to the Andean heights and getting lost in the clouds.
Our next stop was Popoyan – a beautiful town that marks the area where you'll begin to see larger populations of indigenous people. The town was apparently rebuilt 30 years ago after an earthquake but you would never know – the whitewashed buildings are done in the rococo style of Andalucia or even Alentejo. Any southern Portuguese crew members you might have will wander around slightly gobsmacked, teary-eyed and home sick… Again we parked up on the streets, a couple of blocks south of the main square and, again, our nearest neighbor (an office worker from some kind of printing shop) was at our door bearing gifts of water and bathroom access.
Our last couple of days in Colombia were spent winding slowly through the spectacular gorges towards the Ecuadorean border. At first, there is a palpable danger in the twists and turns; the vegetation is still green and lush, the earth itself is red and muddy – but the road surface looks slipped and broken at every corner and there are many delays while construction crews literally pin down the hillsides. This is landslide country – a tension that I swear I could feel – a kind of gloopiness to the landscape. I wanted to be through as quickly as possible while the sun was out and there were no rain clouds: I looked on in wonder, instead waiting in a queue of vehicles, at the local houses clinging to the embankments. Some of their inhabitants were selling diesel for around 30 cent cheaper a gallon than the gas stations and we couldn't figure out the source of this contraband – surely, we were still too far from Ecuador where diesel is a quarter of the price in Colombia? We moved on; the stop-and-go guy swiveling his sign from 'Pare' to 'Sigue'  and the queue of traffic crept through the anti-landslide mountain-repair zone, past the rumbling excavators and generators and… ah, there's the mostly source of the cheap diesel – the locals skanking diesel from the very machines that have come to patch up their slippery, sliding world?
The last couple of hundred klicks takes you higher into rockier, grayer country. This is the type of landscape that I always imagined the Andes to contain – real highland country intersected by deep ravines through which the road skirts and threads. After a few hours, reaching the town of Pasto, the clouds rarely break up enough to afford any glimpse of the volcanos that lie close by. In fact it starts raining – and with the indigenous people wrapped up in coats, scarfs and sweaters, and the pot holed roads being replaced with new bridges and underpasses, busy city life swirling around, we feel like we've been here before – a town far, far from anywhere – it reminds us of Chita, that distant metropolis rising from the empty Siberian tundra somewhere north of Mongolia… And this was a feeling played out again as we spent the night at a truck stop just short of the Ecuadorean border – in Ipiales where the rain-laden wind whipped across the green-grey hills – that we were truly moving across a continent, high above the world. Sometimes, it even reminded me of Wales.
Colombia, then. From the Caribbean to Mongolia. Moving so quickly really only gave us the chance to compare it to other places we've been – that first stage of getting to know a new land and culture.  I hope this has given you a taste of the country, as you are driving through quickly on a mission elsewhere – or, at least, an introduction if you are planning to stay longer than we did. As we crossed the laughably easy southern frontier, I hoped that we would return soon to explore and witness all that we missed.